Hydroscand Interlock Fittings
Product Group 440/510
Interlock fittings are used for multispiral hoses: Gammaflex 5, Deltaflex CT, IsoBar 350, IsoBar 35 and Isobar 42. The principle of the interlock fitting is that the hose is skived both internally and externally in order to create two zones: one locking and one sealing. The locking is created in the front of the fitting, where the hose tail and ferrule are swaged together with the reinforcement of the hose the sealing part is created between the hose tail and inner tube. The back of the fitting is the sealing part; the sealing part is created between nipple and inner tube. The interlock fitting is recommended for hydraulic systems with very high pulsating pressure and requirements of safety. Remember that a good assembly requires accuracy. The assembly should be done at a Mammoth depot or an authorised franchisee according to the assembling instructions in the product catalogue.
Internal skiving for safe assembling.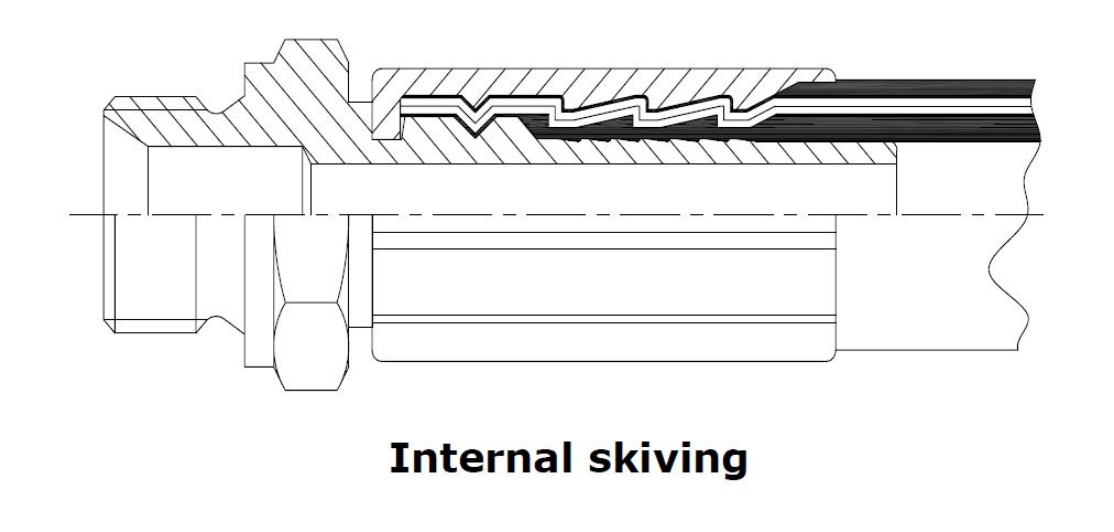 1.Cut the hose transversely. Remember that all fittings have a cut-off length "A".
2.Skive the hose down to the steel wire. The skiving length "L" and "I" is noted in the Swaging Manual. Be careful not to damage the steel wire when skiving. Clean the hose bore from dirt and particles.
3.Push the ferrule onto the hose until it stops. Lubricate the insert and push it into the hose until the stop "B" meets the hose end.
4.Swage the ferrule's full length with the given swage diameter +2 mm. Move the hose so that 2/3 of the ferrule ("b") gets swaged and the collapse is behind the area where the hose is skived. (The front part where the hose is skived internally is now less swaged). Then swage the front part using the same swage diameter ("c"). If the ferrule is swaged at once, the collapse might occur at the wrong spot and the hose part becomes under-swaged.
5.Make sure that the correct internal collapse has been achieved by using the Hydroscand control pin (9013-xx-xx). The GO side should pass into the fitting to make sure the swaging is not overdone. The STOP side, on the other hand, should not be able to pass to make sure the swaging is not underdone. Please note that on these fittings the STOP side should stop at the interlock!
NOTE! It is important to use hoses and fittings that are designed to fit together. Our hoses and fittings have been tested for a perfect fit.