Hydroscand Cross Over Fittings
Product Group 420
Mammoth's Cross Over Fittings are suitable for both spiral and braided hoses. They are recommended for a wide range of fluids such as hydraulic oil, solvents, gases, water cleaning equipment etc. All fittings are manufactured in one piece except for the compact bend which are brazed. There are three types of nuts on the Mammoth fittings, they can be recognised by the different suffixes in their part numbers.
The part number with no suffix
- The fitting is delivered with a crimped nut.
The part number with suffix 1
- The fitting is delivered with a thrust wire nut.
The part number with suffix 2
- The fitting is delivered with a slip-on nut which is kept in place with a plastic washer.
Please note that the working pressure is reduced for hose types DELTAFLEX, GAMMAFLEX and ISOBAR 350 when using 4200 ferrules and inserts.
The following working pressures are recommended: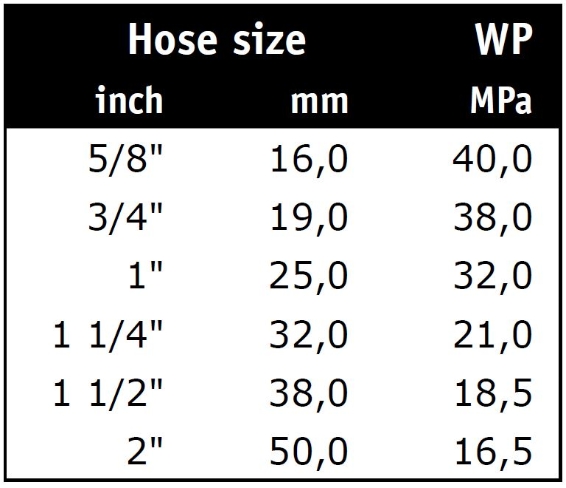 Working Pressure in MPa
1 MPa = 10 Bar = 145 psi
For heavy duty applications with Deltaflex, Gammaflex and Isobar 350, we recommend our Interlock series (4400). A correct assembly makes a safe unit. Follow the assembly instructions on page 127.
Assembly Instructions For Cross Over Fittings
1.Cut the hose transversely. Remember that all fittings have a cut-off length "A".
2.If using a skive ferrule, the hose should be skived to the steel wire. The skiving length "L" is noted in the Swaging Manual. Be careful not to damage the steel wire when skiving. If you are using non-skived ferrules you do not need to skive the hose. Clean the hose end from dirt and particles.
3.Push the ferrule onto the hose until it stops. Lubricate the insert and push it into the hose until the stop "B" meets the hose end. Thereafter, pull out the ferrule towards "C".
4.Swage the ferrule and the fitting according to the required swage diameter "D" (see the Swaging Manual). Use a caliper to check the swage diameter.
5.Make sure that the correct internal collapse has been achieved by using the Hydroscand control pin (9015-xx-xx). The GO part should pass into the fitting to make sure the swaging is not overdone. The STOP part, on the other hand, should not be able to pass to make sure the swaging is not underdone. The Hydroscand control pins (9015-xx-xx) are equipped with one side applicable for braided hoses (knurled), and one side for spiral hoses (four grooves).
NOTE! It is important to use hoses and fittings that are adjusted to fit together. Our hoses and fittings have been tested for a perfect fit.